Registration is Open for the 2023 Environmental Field Sampling and Measurement Conclave
Date Posted: 4-28-2023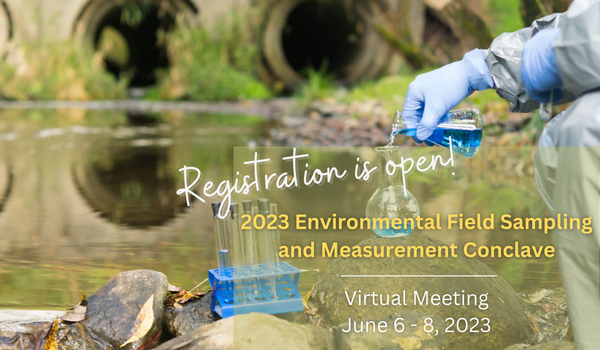 The NELAC Institute (TNI)'s first Environmental Field Sampling and Measurement Conclave will be held as a virtual meeting from June 6-8, 2023. The Conclave will feature presentations on a variety of topics related to environmental field sampling and measurements.

At the end of each session a Technology Showcase will occur to allow vendors to highlight the latest products and services related to field measurements and sampling. Presentations will take place from 12:00pm to 4:00pm EDT with a short break at 2:34pm. The Conclave is being sponsored by TNI's National Environmental Field Activities Program* (NEFAP).
The Benefits of Attending
All attendees have the valuable opportunity to learn new approaches and technologies for environmental sampling. You will be able to:
learn how to improve the quality of field sampling and measurements;
learn about new field technologies and regulations;
learn about accreditation for field sampling and measurement organizations;
learn how to implement risk mitigation strategies to ensure reliable data; and to
see how real-life case studies can impact data quality.
The TNI Standard for FSMOs is modeled after ISO/IEC 17025 "General Requirements for the Competence of Testing and Calibration Laboratories." TNI Standard Volume 1 is the FSMO Competency Standard, comparable to TNI's standard for fixed laboratories. TNI Standard Volume II is the FSMO Accreditation Body (AB) Requirements to Accredit FSMOs. The AB Standard is based on ISO/IEC 17011 "Conformity Assessment - General Requirements for Accreditation Bodies Accrediting Conformity Assessment Bodies."
For more information, including the titles and abstracts for all presentations, visit the Conclave website here.


* The purpose of the NEFAP is to establish and implement an accreditation program for field sampling and measurement organizations (FSMOs).